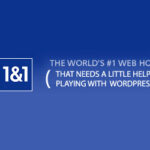 Somewhere out there I am still on a 1&1 mailing list…luckily this email deals with PHP5 and our favorite platform, WordPress. This PHP5 update from 1&1 is also informative for users of Drupal, Joomla, osCommerce, phpBB, Typo3 and more. If you did not receive 1&1's email you can read it in it's entirety below.
Subject: Important information: transition to PHP5
Dear Mr. Diaz,
Our goal is to keep pace with all new technical and security-related requirements.
For this reason, we inform you today about the transition to a new PHP version.
From April 1, 2013, the PHP versions 4 and 5.2 will not be supported anymore.
As of now, we will use the version PHP 5.4 instead.
In order to benefit from the new PHP version as quickly as possible, you should already switch to the new version now. To do this, log in to your 1&1 Control Panel (https://www.1and1.com/login) and choose the current PHP version PHP 5.4 under
"Global PHP Version". Then, check if your website and scripts run properly. For more information on PHP, please refer to our FAQ section at: http://faq.1and1.com/scripting_languages_supported/php/
Important:
From April 1, 2013, the versions PHP 4 and PHP 5.2 will not be supported anymore. Therefore, do not wait too long before you switch your version. Thus, you ensure that your website is displayed correctly and your scripts operate smoothly.
Please note that after the transition, the option "Register Globals" will not be supported anymore. Furthermore, we recommend updating the following applications in particular:
– Contao
– Drupal
– eGroupWare
– Joomla
– MediaWiki
– myorgbook
– osCommerce
– phpBB
– Serendipity
– Shopware
– Typo3
– WebCalendar
– WordPress
– XOOPS
– xt:Commerce
Do you have any further questions?
Please feel free to call us. Our team will be pleased to support you – 7 days a week, 24 hours a day: 1 – 866 – 991 – 2631
Or send an e-mail to: [email protected]
We wish you a lot of success with your new PHP version!
Yours sincerely,
Web Hosting Team
1&1 Internet Inc.